This looks like it may be the easiest recipe ever. It only has two ingredients and doesn't require a lot of prep time. This would be adorable for valentines day if you added heart shaped sprinkles to the top and I think it would be great for any other occasion with M&M's on top. I hope it is as easy to make as it looks!
This is a link to the original blog with the recipe in it.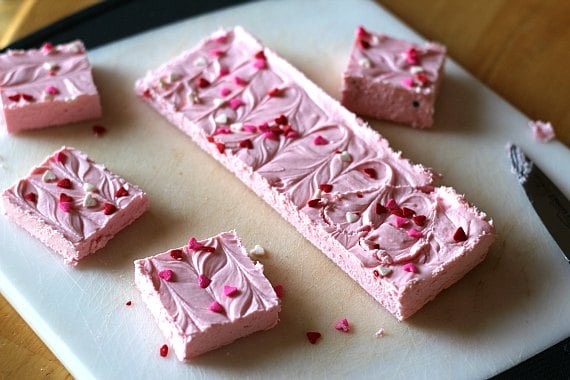 Strawberry Fudge
Ingredients:
1 (16 ounce) can of strawberry frosting
1 (12 ounce) bag of white chocolate chips
Heart shaped sprinkles or M&M's for topping (optional)
A lightly greased or lined 9x9 baking pan
Directions:
Melt the white chocolate chips in a microwave safe container or over a double boiler.

Stir in the can of frosting and mix evenly.

Spread the mixture into the prepared baking pan.

Make designs in the top of the fudge (optional).

Add your choice of topping.

Refrigerate the fudge for 30 minutes or until it sets.

Cut squares or use cookie cutters to make hearts.

Serve and enjoy!
Note: Store in an airtight container for up to a week.